Survey meter calibration facility
Radiation calibration facility was established decades ago in Health Physics Division as a supporting laboratory for radiation field survey meter calibration on campus. Later on, the facility also provided service to radiation survey apparatuses user in industry, agriculture, academy and medical institutes throughout Taiwan.
The main task of facility is to provide a traceable and evaluated standard gamma irradiation field for dose/doserate calibration. At 1998, Taiwan Accreditation Foundation (TAF) accredited calibration facility with a registered laboratory number 0304 first time. Since then, facility continued several certification renew processes and keep updated in compliance of accreditation requirements.
Our calibration radiation standard is traceable directly to the National Radiation Standard of Taiwan. It carries out periodic re-calibration in National Radiation Standard Laboratory all the time.
To commit a calibration service
Please contact Miss. Wang or Miss. Chen at telephone 03-5745157 or 03-5715131 ext 35782.
Or to fill in a service request form then send back via facsimile to 03-5722660. We will contact you upon request.
Clients need to bring meters personally to calibration facility at an appointment time. Upon arrived, the client fill up a commission which address important reporting information of the calibrated meter and owner. The calibration would be carried out and return the meter to the client right away in the laboratory.
Since most portable survey meters are fragile, we do not accept parcel delivery.
Calibration ranges
| | | | | |
| --- | --- | --- | --- | --- |
| Item | Calibration method | Range | Energy | Smallest uncertainty |
| Portable survey meter | In laboratory HPCLP-09 calibration procedure according to ANSI N323AB (2013) standard | 5μSv/h ~10mSv/h (0.5mR/h ~1R/h) | 662 keV | 5 % |
Reporting and payment
The calibration report and a pay-in notice will be send to client in two weeks after finish the calibration procedure. Clients follow the instruction in pay-in notice to pay the exchequer account in Bank of Taiwan for calibration fees. There is no invoice but a paying certificate will be issued by remittee bank.
Calibration fees
| | |
| --- | --- |
| doserate calibration for portable gamma ray survey meter | NT2000/piece |
| accumulated dose calibration for gamma ray personal dose meter | NT1000/piece |
| detection efficiency test for beta ray survey meter | NT2000/piece |
| gamma doserate calibration and beta ray detection efficiency | NT3000/piece |
| instrument test | NT500/piece |
| instrument tuning | NT500/piece |
| reissue report | NT200/piece |
Facility location
There is a description for routes to NTHU. The calibration facility is located at western side of reactor as a stand alone single-story building. There are linked maps showing the routes from both main campus entrances to the site. Also a video link to demonstrate the driving directions to our facility. Visitor must take the front door of reactor building and sign a visiting form in guard office before go to second floor. Then, at the far end of corridor, follow the sign to reach the calibration facility.
Equipment
Irradiator
Model OB-40 by STS in Germany. It contains three cesium 137 sources of 111GBq, 18.5GBq and 1.85GBq.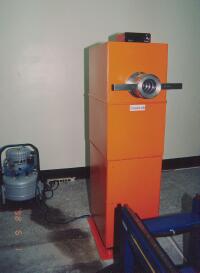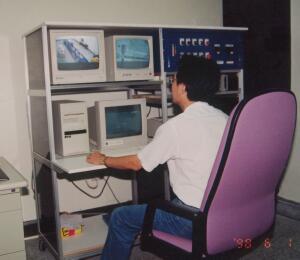 Rail track
It been designed and fabricated by domestic factory with micro-processor control. The length of the rail is about 6 meters.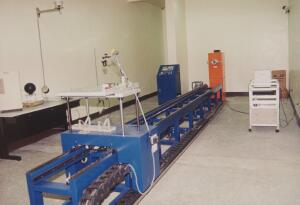 Radiation measurement instruments
The ion chamber of 1000 cube centimeter from PTW in Germany is the device to pass down the national standard. The electrometer/dosimeter AT5350/1 is from ATOMTEX in Belarus.